Caroline Van Dierkson
So, this is my first rambling about Framing Dawes where I'll show you some of the early concept art and talk about where the idea came from. There's a long way to go, but I'd say over 85% of the artwork is complete for chapter 1 and I'm aiming to have a playable demo ready later this year.
Back in 2012 I started to write a short story with a working title of, Schizophrenia where the mentally ill protagonist was convinced they were being framed for the murder of two missing children that had recently swept up on the shore. I toyed with the idea of a person slowly going insane by witnessing their doppelgänger getting up to mischief and other characters being killed after revealing important information to our protagonist (yes ok, I have a slightly dark and twisted mind... Bear with me). I was struggling with the story's direction and an ending that wasn't cliched but also not completely out of this world. I decided to leave it and return to it once I had thought it through as something was missing and I couldn't put my finger on it.
Roll on 4 years to 2016 and I finally realised what the missing ingredient was. It wasn't the plot nor the ending, but the opportunity for the reader to become the protagonist, to explore the environment, interact with suspects, make mistakes and unravel the mystery in their own way. And what better medium than a computer game, which is something I've always wanted to make. After playing Broken Sword and Monkey Island among numerous others many years ago, I was seriously blown away. The stories, the characters, the art, the music and each game really felt like a personal and exciting experience and you felt a real sense of accomplishment when working out the puzzles (darn you goat!). There were a few technical issues, however. I had no experience in game development or animation at this stage. But, did I let that crumble my dream? Heck no!
I first began work on creating a new protagonist, (as the one in the short story wasn't very accessible) and her companion and drafted their back stories. I wanted a relatable albeit troubled main character, and took inspiration from Alice in Wonderland, Tim Burton and the 90's Grunge scene. I provided a few scribbled concept sketches to an artist as a starting point. Below is the first version, which to me just looked too twee and Disney, not what I was going for at all. And the second is the first real sketch of Bay Dawes and her dead pet rabbit, Dink. I was in love.
Dawes and Dink first concept
Dawes and Dink final concept
I now had a face and personality for my protagonist and began evolving the story (it's changed quite dramatically from the 2012 short story). But, I still didn't have a 'wow' factor ending. But considering how much learning and research I had to do, I didn't let it phase me. I also needed to give her a name. The Dawes part just made sense as I wanted the title to be Framing "her name", and Dawes just worked. But she needed a first name. I've always had a bit of a daft thing for play on words, and as the story would have multiple meanings, my leading lady should have a fitting name. So Bay Dawes was truly born with her beloved pet rabbit Dinky Ink, shortened to Dink.
I always knew I wanted the game to be 2D and started researching game engines and plugins. After much reading, head scratching, headaches and tutorial watching, I decided on Unity and Adventure Creator, which is an amazing bolt-on created by Chris Burton (who is one of the most patient, helpful and dedicated developers out there by the way). As I mentioned previously, I had no previous experience with Unity or any game engine for that matter, so the learning curve was very steep. It took months and months to get to grips with it and I'm still learning even now. I found it so difficult and frustrating but with amazing support along the way, I got to the point where I could just open up the program and set up a basic scene in minutes. Result!
During this time, I wanted to start work on importing my character into the engine and I knew I would need idle, walk and talk animation cycles as a bare minimum. Next stumbling block. I needed to learn 2D animation too. So, another round of research and I decided on using Moho Pro 12. And, another huge learning curve commenced. And this is where I almost quit. I couldn't even get the character rigged let alone animated. Limbs were flying round in circles, misbehaving and no one could figure out why. I actually cried at this stage, it was all getting too much, I was overloading my brain with new things, spending hours and hours learning, working full time and then I couldn't even rig a character. Luckily someone came to my rescue, asked me to send them the files so they could investigate the issue. It ended up being something so silly, but he fixed my rig, made a tutorial video out of it and has been an amazing support ever since. So thank you, McCoy Buck, you saved me from quitting Framing Dawes!
Fast forward to mid 2017 and I had practiced with both animation and Adventure Creator and was getting better, not great but a noticeable improvement. Next I needed to find an environment artist.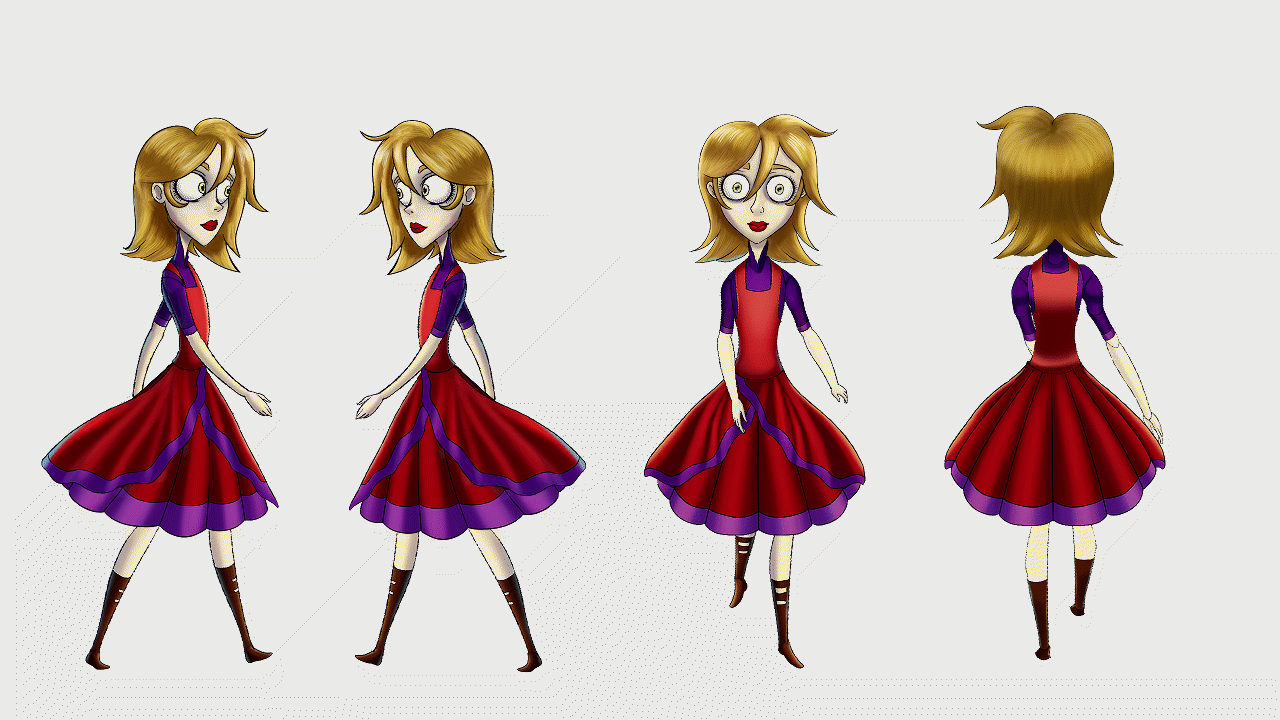 This took some time as I originally had a friend of a friend doing it, but after a couple of backgrounds he didn't have the time to dedicate to Framing Dawes. So, after a search, I found an extremely talented artist and we began work on the environments and assets for the first chapter. Art creation is by far the most time consuming part of the process but it's worth it as he somehow manages to take my crude sketches and turns them into masterpieces. As per below example.
Can you guess which is my sketch?
Several environments later, animations completed, logic implemented and some music composed, I decided I wanted to add a more eye catching dialogue system and downloaded Dialogue System by Pixel Crushers. Massive learning curve number 3. Again, I really struggled with it but with the help of Tony Li, the creator (another incredibly patient and helpful developer and all round nice guy) I managed to set up attractive speech bubbles and a response panel. It's also really useful keeping all of the dialogue in one place and trust me, there's a lot of it.
There have been a few periods where no development work has been done. Things happen, completely out of your control but crush you so much that you need to take some time out and deal with them the best you can. I was made redundant twice and I lost my best friend and my mum in the space of a year and a half. It's been tough, I took some breaks, they were needed so I could grieve and recharge. But I always return to making Framing Dawes, it's just something I have to do. I need to tell Dawes' story. There's a part of me and my best friend in her and Dink is based on my childhood pet dog called Rex, a chance to bring him back to life again through my game. If I gave up I'd feel as if I was letting them down. The game's got personal and that's a good thing, it keeps you focused.
Anyway, it's almost April 2019, there's still lots to do before chapter 1 is completed and I'm aiming to release that as a demo later this year while progressing with additional animations and sound / music and then on to chapter 2.
Stay tuned for further updates.